It has been such a pleasure teaching Yoga online and in person this year – the regularity of practice has been a grounding experience for me as well as you. Thanks for your kind words and for sharing your experiences of 2020 Yoga with me in your many messages and emails.
As my holiday gift to you, I have recorded a 30 minute Yoga for BackCare practice that can be accessed AS MANY TIMES as you like over the holidays – it is a short run through a mix of mobility, strength, breathing and relaxation.  Remember, when it comes to BackCare, every little helps and your body will be grateful for some attention.  Practice a few times a week to keep your spine flexible and strong.  Remember too, rule 1 of practicing with me – NO PAIN !   Work in a paid free range, with your body.  If you are tired, focus on the more restful work.  If you've had a couple of days on the sofa with the chocolates – move a little more.  And above all, have a sense of joy as you practice.
The class is available to purchase HERE The cost is £8 and ALL PROCEEDS will be donated to Shelter, the homeless charity, whose work is so important at all times of the year. You will receive a link to access the practice and can use this as many times as you wish.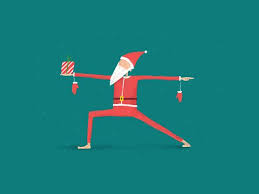 Enjoy ! and see you safe and well in 2021- classes resume on Mon 4th Jan.  With love, Anji