Osteopathy is a regulated system of manual medicine that specialises in the diagnosis, treatment and prevention of musculoskeletal and related pain.   Osteopaths are specialists in pain management and you don't need a GP referral to make an appointment. 
My approach as an Osteopath is based on the principle that your well-being depends on the whole of you functioning well together.  Assessment is of the whole person and the factors affecting you – your physical body, external stresses and strains that may influence your condition such as work, sports injuries or other medical conditions, as well as your lifestyle.  Treatment will include hands-on therapy but also exercises, lifestyle advice and us working together to get positive changes.  
Osteopaths are NHS Allied Health Professionals, just like physiotherapists and occupational health workers (click the link to find out more).  I work 1 day per week as a MusculoSkeletal Clinician at the NHS Royal London Hospital for Integrated Medicine (part of UCLH).    Osteopaths are well trained: we study for 4 years full-time at university and are trained to diagnose or refer on to other specialists if necessary – we are regulated in the UK by the Osteopaths Act 1993 and overseen by the General Osteopathic Council.  You can find my registration details here General Osteopathic Council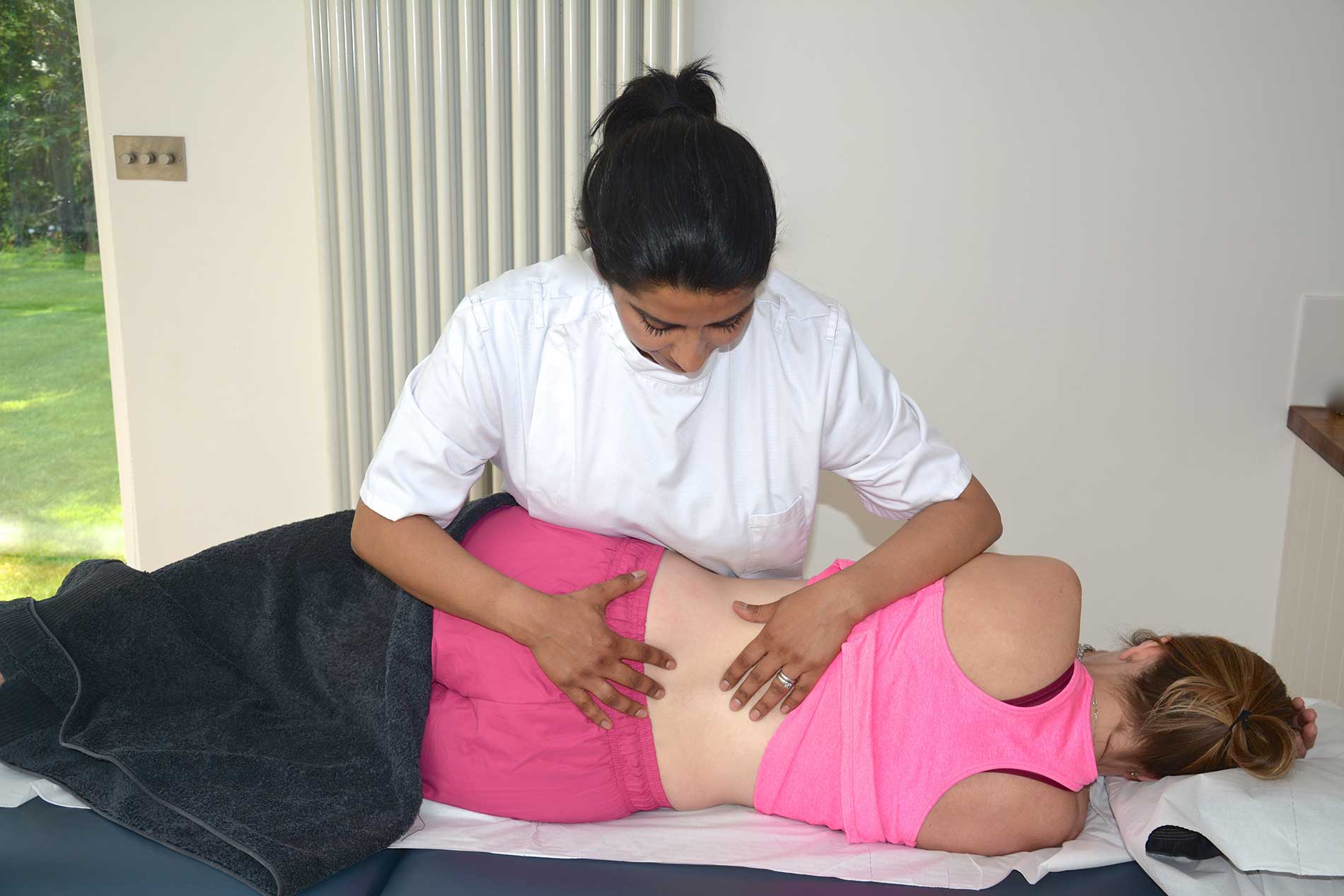 FREQUENTLY ASKED QUESTIONS
What do you treat?
Osteopaths treat a range of conditions, including low back pain, neck pain, joint pain (knees, hips, elbows etc), muscle strains and pains from arthritis and other conditions.  If you are not sure if I can help, please contact me and we can discuss osteopathic treatment at my clinic in Ealing. 
How do you treat?
The type of treatment depends on what the problem is.  Treatment sessions include manual treatment (see below), advice and exercise therapy.  I always agree the approach with YOU as the most important thing is that you buy in to your care.  In most cases we need to change things – so I might help with hands-on, you can help with exercises or lifestyle changes.  We work together to effect the best change.
Osteopathy is a 'manual therapy' meaning that some treatment is done with my hands.  This includes gentle moving techniques (cranial techniques), articulations (moving the joints, ligaments and bones), soft tissue massage and sometimes manipulations (the 'popping' of joints).  All of these techniques are employed when best appropriate to make your body a more comfortable place to live.  
I am also trained in Dry Needling (medical acupuncture) and K-Taping so may use these techniques too.  As a yoga teacher I include breathing techniques or yoga exercises as part of your treatment plan or homework.  You won't just get yoga though –  I provide rehab exercises and lifestyle advice too – and this will be in the majority of cases to help you get moving and out of the pain that brought you to my clinic.
I discuss all treatment approaches with you and we can discuss which are most suitable in your individual case.  As with all manual therapies, there is a possibility of increased soreness after a treatment.  This normally subsides within 24 hours but you are always welcome to contact me after your appointment.
What happens in an appointment ?
Your first osteopathic appointment at my Ealing clinic lasts an hour, which gives plenty of time for discussion about your symptoms, past medical history and lifestyle – I need to get to know how you use your body and how this may influence your symptoms.  I will conduct an osteopathic examination, discuss my findings with you and we will agree a treatment plan.  If after careful examination, I feel your symptoms are not suitable for Osteopathic Treatment or need further investigations I may refer you to your GP.
For examination you may need to dress down to your underwear – please bring along shorts and a vest top if you wish.  You are welcome to bring a friend or family member with you to your appointment.   
Treatment will normally take place in the first session if we agree this is the right way forward.
What does a session cost?
Appointments with Mike or Konstantinos cost £75 and last 45 minutes.
An initial consultation with Anji for persistent pain, therapeutic yoga or more, costs £185 and takes around 75 minutes. Anji will waive this fee in return for an £85 donation to one of our supported charities – typically London Air Ambulance – and the donation can be paid via our JustGiving page, details of which we will share with you.
In the initial session, with any of the team, you will have time to tell us what is going on and if appropriate, we will conduct a physical examination. Depending on how complex your situation, this session may or may not include treatment but it will be the start of our work together.  It will most definitely give you sensible and clear advice on how to move forward. 
We will agree a way to work together and the cost will depend on your requirements.  Many clients achieve better results from booking a programme of care and making the committment to make lasting changes.  The programme could include hands-on treatment, acupuncture, yoga as therapy, coaching, homework, online classes and more !  For persistent pain, a minimum number of sessions will be indicated. 
OsteoMAP - Osteopathy and Acceptance Therapy
I am one of a handful of osteopaths in the UK who has been trained in the OsteoMap method, pioneered at the British School of Osteopathy and funded by the NHS.  OsteoMap integrates hands-on osteopathy with mindfulness training, to help patients with chronic pain conditions manage the impact of their pain on everyday activities.  This approach can be entered into by prior consultation.